Cuando los patients in the Region of Murcia no cuidan su boca como deberían, u otras veces por culpa de un golpe, el dentista nos da la mala noticia de que tenemos que 'matar el nervio'.
"Matar el nervio" en realidad se denomina hacer una endodontics. ¿En que consiste este procedimiento? Lo describimos a continuación en nuestro post de hoy.
1. El diente en su interior contiene una serie de nervios y vasos sanguíneos (llamados pulpa dental) que le aportan la sensibilidad y los nutrientes que éste necesita.
2. Cuando somos adultos, la punta de la raiz, que es por donde los nutrientes y la inervación entran al diente, se estrecha. Esto supone que cuando la pulpa se irrita, esta no tenga capacidad para curarse, e incluso muera.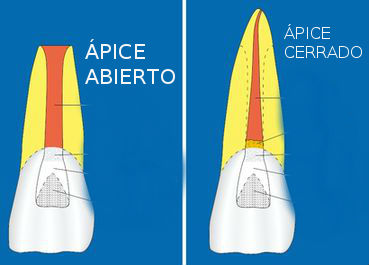 3. Si tenemos una caries sin tratar, la infección va profundizándose hasta que alcanza la pulpa, y esta muere.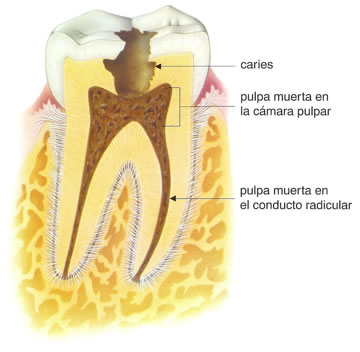 4. La endodoncia consiste en retirar este tejido para evitar que por estar inflamado o muerto, cause dolor, infecciones, etcétera.
5. El procedimiento consta de una o varias sesiones, dependiendo de la gravedad de la situación.
6. Lo primero, es acceder a la pulpa. Esto se hace a través de un pequeño orificio que se hace a través del diente.
7. Una vez hemos llegado a la pulpa, esta se retira y se limpia el interior del diente utilizando unos instrumentos muy finos específicos para esta tarea.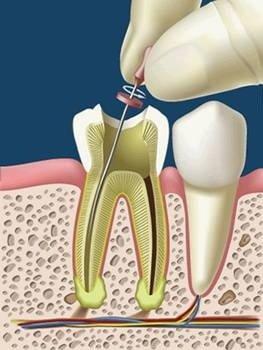 8. Una vez que todo está limpio, se procede a rellenar los conductos de la raíz con un material plástico llamado gutapercha. Esto hará que no quede un hueco dentro del diente para que no pueda ser invadido por microorganismos que volverían a causar enfermedad.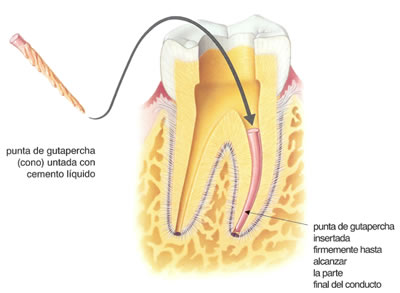 9. Por último, se tapa el orificio de entrada con una obturación o 'empaste'. Dependiendo de la cantidad de tejido con caries, el dentista puede aconsejar una reconstrucción dental, o incluso una funda o 'corona' de cerámica.
Por lo tanto, "matar el nervio" en realidad no es tal, ya que muchas veces este ya está muerto, si no la limpieza de los conductos donde este se encuentra para evitar infecciones y dolor. Con ello, conseguimos prolongar la vida de nuestros dientes, manteniéndolos en nuestra boca para seguir masticando con normalidad, siendo un tratamiento de elección siempre que podamos realizarlo con éxito.
Emilio Gil López
Licenciado en Odontología
Dedicación exclusiva a Endodoncia y restauradora