The Sociedad Española de Periodoncia y Osteointegración, con el patrocinio de Colgate, avala la celebración ide la undécima edición del Mes de la Salud Bucodental, que prevé realizar revisiones dentales gratuitas, con el propósito de incentivar entre los ciudadanos el hábito de las revisiones periodontales en la clínica dental, además del cuidado diario de dientes y encías.
The clínicas líderes de la Región de Murcia afiliadas a esta iniciativa pondrán de este modo a disposición de los ciudadanos interesados en esta iniciativa sus instalaciones y personal para recibir revisiones gratuitas y un informe detallado del estado de su salud bucodental.
De este modo, los interesados podrán llamar al teléfono gratuito 900900081, para solicitar una revisión gratuita en los centros odontológicos más próximos a su lugar de residencia o de trabajo.
Las revisiones, que ni incluyen tratamientos o radiografías, se realizarán de forma complementaria a la difusión de información divulgativa sobre la salud gingival en centros comerciales y otros lugares con gran aforo, disponiendo además de una unidad dental móvil que realizará revisiones en distintos puntos de la geografía española.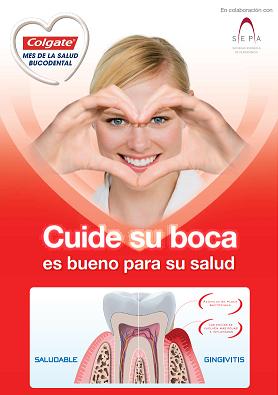 De este modo, partiendo de la base de que el mejor tratamiento es la prevención y el cuidado de la salud oral, los profesionales dentales, la SEPA y Colgate buscan concienciar a la población de la importancia de la detección temprana de diversas patologías, además de ofrecer asesoramiento sobre la mejor forma de abordar su cuidado diario:
– Cepillado tres veces al día, con un cepillo de calidad, preferiblemente eléctrico
– Empleo de una pasta dental fluorada
– Sustitución del cepillo dental cada tres meses de uso
Así, los profesionales dentales muestran una vez más su compromiso con la salud bucodental de sus pacientes, al tiempo que realizan una importante labor de cuidado y detección precoz de cualquier patología de origen dentario.