In the Region of Murcia son cada vez más las personas que deciden federarse y practicar de forma asidua un deporte, algo positivo no sólo por lo enriquecedor a nivel personal que puede resultar competir y mejorar día a día, sino también por las ventajas que tienen el deporte y el ejercicio físico para nuestro organismo.
Baloncesto, fútbol, balonmano, atletismo, natación, kárate, judo, voleibol, tenis, pádel… la lista es interminable y, por suerte, parece que no acaba, un reflejo de que se trata de una sociedad joven y motivada por la autosuperación y el trabajo en equipo que muchas veces exigen estas disciplinas.
En ocasiones, los dentistas deben responder a estos profesionales sus dudas sobre la compatibilidad de los tratamientos con su actividad deportiva, algo que se pone especialmente de manifiesto en el caso de los pacientes que llevan orthodontics para mejorar la posición de sus dientes y, con ello, su masticación y su salud general, además de, por supuesto, su estética personal y facial.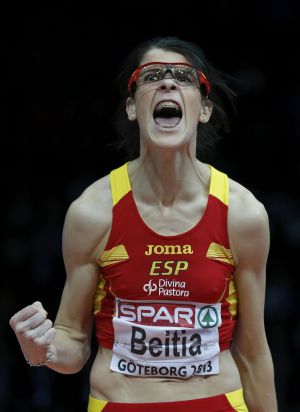 Hoy tenemos una buena muestra de que la ortodoncia no es, en modo alguno, incompatible con la actividad física: Ruth Beitia, una de las representantes españolas en los Europeos de Atletismo en Pista Cubierta, ha ganado una medalla de oro, la máxima distinción, que celebra en esta imagen enseñándonos su ortodoncia.
Y es que, lejos de afectar a la actividad deportiva, unos dientes alineados permiten por ejemplo reducir empaquetamientos de comida y caries que podrían interrumpir entrenamientos, además de garantizar una alimentación y una masticación lo más adecuadas posibles que ayuden a los deportistas a adquirir todos los nutrientes necesarios para, como en este caso, llegar a lo más alto.